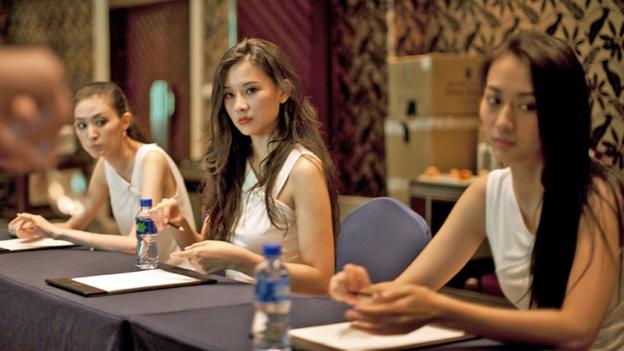 Miss China 2014 contestants learn etiquette from a Seatton instructor. (Darcy Holdorf)
According to the BBC, five Chinese women are sitting upright in their chairs, designer handbags at their heels, listening attentively to a trendy Chinese Tatler magazine photographer describe how to pose in public. He is talking makeup, light and cheekbones. The room is decorated with Pierre Frey wallpaper and the participants sip tea out of a Bernardaud tea set. Notepad in hand, they are learning the dos and don'ts of camera etiquette.
The course entitled "How to pose elegantly in front of the camera" is one of many offered by Institute Sarita, a modern-day version of European finishing schools that caters to Chinese nouveaux riche. Other courses offered by the school, located in the trendy Sanlitun district of Beijing, include how to raise children, proper table manners and luxury brand pronunciation.  
"Most of my clients had an embarrassing moment, overseas or during a business dinner. They come here because they want to make thing easier for themselves," said Sara-Jane Ho, the perfectly groomed school founder, as she sat in a drawing room furnished with imported French antique furniture.
"It's mostly learning about how to behave in an international environment," said Ho, who herself studied etiquette at the Institut Villa Pierrefeu in Switzerland, one of the last proper finishing schools in the world. So far she has attracted a couple hundred wealthy Chinese to her courses. She is opening a Shanghai branch in May.
With 190 billionaires and more than two million millionaires, China tags just behind the US in number of high-net-worth individuals, according to research from Forbes magazine and Boston Consulting Group.
Many of these fortunes have grown rapidly, in lock-step with China's newly expanding economy and multiplying business opportunities. Some who find themselves newly wealthy have little knowledge or training in how to behave in international business or social events.
"The country was so isolated 30 years ago," said Ho. "The spike in wealth has happened in a compressed time. This transformation has created a lot of pressure on individuals."
As a result, some businesspeople may appear uncouth and blunt to their western or Asian counterparts. Finesse, on the other hand, can smooth many business transactions. "Simply knowing how to be comfortable with a knife and fork can be a deal clincher," said James Hebbert, who represents Seatton, a British etiquette school in China.
To read more, click here BBC